Welcome to the Joan and Sanford I. Weill Department of Medicine
Augustine M.K. Choi, MD Sanford I. Weill Chairman, Joan and Sanford I. Weill Department of Medicine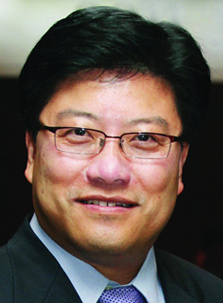 Welcome to the Joan and Sanford I. Weill Department of Medicine of Weill Cornell Medical College and NewYork-Presbyterian Hospital/Weill Cornell Medical Center. We are responding to the unprecedented challenges of academic medicine at the beginning of the 21st century with an uncompromising commitment to leadership and innovation in our interdependent missions of patient care, education and research. This commitment is built on the foundation of a long and rich tradition of preeminence in American medicine.
As the newly appointed Chair of the Joan and Sanford I. Weill Department of Medicine, I look forward to the extraordinary journey ahead with the greatest of enthusiasm. We are indebted to those pioneering physicians and scientists who drove the major discoveries over the past century, but we cannot rest on their laurels. Today's world of translational research offers undiscovered vistas to explore that will open the door to life-saving therapies. An ever-expanding universe of biomedical sciences, genomics, and technological tools will provide the key. We are on the precipice of targeted patient therapies that will not only save lives, but will enable a new style of more personalized and individualized treatments.
New York City offers an ideal setting for our pursuits, a multicultural academic mecca providing a full spectrum of patient cohorts and diseases that is unparalleled anywhere in the world. Our researchers are collaborating on projects nationally and internationally, and with colleagues at the Clinical and Translational Science Center here at NYP/WC, as well as with neighboring world class institutions, Memorial Sloan-Kettering Cancer Center, Rockefeller University, and Hospital for Special Surgery. Their research addresses the medical concerns of our time - from cancer, obesity and diabetes, to lung, heart, kidney and infectious diseases - to name a few. We are also fortunate to be utilizing laboratory space in our campus's spectacular new hub for science, the Belfer Research Building.
The Department is set to experience exponential growth in its clinical care mission. A newly recruited cadre of physicians and scientists are bringing the highest levels of expertise in their specialized fields of medicine. Our outstanding physicians treat patients from New York City, the tri-state area, the nation, and all corners of the world. Patient care services have expanded to encompass NewYork-Presbyterian/Lower Manhattan Hospital, as our many satellite and affiliated locations continue to evolve. We remain committed to providing all patients with the high-quality healthcare, compassion and dignity they deserve.
Home to one of the country's top tier residency training programs, our department is known for its innovative approach to education. Residents-in-training, fellows, and Weill Cornell medical students enjoy an environment of camaraderie, replete with a wide array of clinical and research opportunities. Our extraordinarily dedicated faculty implement a proactive style of mentoring that is geared to building a young physician's career path – whether it be physician-scientist, clinical educator, or academic leader.
With a passion for medicine, unwavering focus, and the remarkable talents of our faculty, we are using today's scientific tools to unravel tomorrow's medical discoveries. We look to a new era in life-saving therapies. Our patients deserve nothing less.
Best regards,
Augustine M.K. Choi, M.D.

Annual Report 2013
The Annual Report provides an in-depth view of the Joan and Sanford I. Weill Department of Medicine's latest news in patient care services, breakthrough research, innovative educational programs for residents and fellows, Honors, Awards and a Financial Report. (click here)

Residency Training Program in Internal Medicine
The Joan and Sanford I. Weill Department of Medicine is home to one of the premiere internal medicine residency program in the country.
(click here)

View our interactive timelines. The first installments covers advances in Vascular Biology and Clinical Pharmacology. More divisions coming soon. Take the Historical Tour

Clinical Trials
Are you a patient or healthy volunteer looking to join a research study? Click here for a complete list of clinical trials in the department.
Click here for Medicine Grand Rounds
No CME credit available. Must
have CWID/IT account to access.
Dr. Augustine M.K. Choi, Sanford I. Weill Chairman of Medicine, hosted an Andrew I. Schafer, MD, Symposium on April 29, 2014. A new lecture series in Dr. Schafer's honor begins on May 15. Read More
Weill Cornell Medical College has named its department of medicine the Joan and Sanford I. Weill Department of Medicine. The naming is in recognition of the Weills' recent $100 million gift – which also established the Joan and Sanford I. Weill Center for Metabolic Health – and honors the couple's longstanding dedication to the medical college. Additionally, two new endowed chairs have been established: Dr. Augustine M.K. Choi has been named the Sanford I. Weill Chairman of the Department of Medicine and Dr. Louis Aronne has been named the Sanford I. Weill Professor of Metabolic Research. Click for Weill Cornell Press Release
Dr. Martinez has been named the Executive Vice Chair of Medicine at Weill Cornell Medical College, and NewYork-Presbyterian Hospital/Weill Cornell Medical Center. Read More
Dr. Logio Becomes President-Elect of the Association of Program Directors in Internal Medicine (APDIM)
Dr. Lia Logio, Vice Chair for Education and Director of the Internal Medicine Residency Program (Weill Department of Medicine), has been named President-Elect of the APDIM. An APDIM Annual Awards Luncheon will be hosted by the APDIM where Dr. Logio will be celebrated for this prestigious honor. The Weill Department of Medicine salutes Dr. Logio in recognition of her outstanding leadership in furthering the department's educational mission.
Since Dr. Michel Kahaleh joined the department, there has been a 175% increase in advanced endoscopic interventional procedures in gastroenterology as well as the launch of the first pancreatic program at NYP/Weill Cornell. Under his direction, there has also been a rise in the number of minimally invasive endoscopic techniques that are highly effective, safe, and spare patients from major surgeries. Read More
The Employee Recognition Review Committee (R3) of the Joan and Sanford I. Weill Department of Medicine completed its bimonthly review of all nominees and three superstar winners were announced: Deanna Joa, Senior Medical Secretary (Hospital Medicine-Lower Manhattan), Anna Quinones, Senior Medical Secretary (Gastroenterology & Hepatology), and Susan Daniel, Clinical Technician (Pulmonary & Critical Care Medicine).
Read More