Research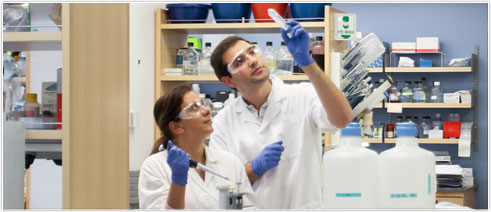 The biomedical research carried out in the Joan and Sanford I. Weill Department of Medicine grows evermore dynamic and expansive. The consistently increasing funding we receive each year speaks to the breadth and scope of the research enterprise in our department. Our laboratories continue to be upgraded and facilities are state-of-the-art. Construction will begin this year on a new, 400,000-square-foot Biomedical Research Building on the medical center campus of East 69th St. Led by Principal Investigator, Dr. Julianne Imperato-McGinley of the Weill Department of Medicine, Weill Cornell was among the first groups of institutions nationwide to receive a $49 million NIH-funded Clinical and Translational Science Award (CTSA). Major collaborative research partnerships and joint research training programs continue to expand with our neighboring institutions, Rockefeller University, Memorial Sloan-Kettering Cancer Center (MSKCC) and the Hospital for Special Surgery (HSS), as well as the Ithaca campus of Cornell University.
A number of our physician-scientists have received honorary awards in recognition of groundbreaking discoveries. Such discoveries emerge from arduous work at the bench and in clinical research with patients. Through our collective commitment to excellence in research, we continue to attract world-renowned faculty, educate tomorrow's physician-scientists, and provide our patients with the best that medicine has to offer.

Research Opportunites for Residents.
We invite you to explore research within the Weill Department of Medicine by clicking on the items listed below.

---
GENERAL CONTACT INFORMATION
Mailing Address
NewYork-Presbyterian Hospital/
Weill Cornell Medical College
Weill Department of Medicine
525 East 68th Street, Box 130
New York, NY 10065
OFFICE LOCATIONS
Office of the Chairman
530 East 70th Street, M-522
New York, NY 10021
Tel: (212) 746-4720
Fax: (212) 746-8793
Email: [email protected]
Administration Office
1320 York Avenue, HT-621
New York, NY 10021
Tel: (212) 746-4007
Fax: (212) 746-8214
Residency Office
530 East 70th Street, M-528
New York, NY 10021
Tel: (212) 746-4749
Fax: (212) 746-6692
Top of page