Pulmonary & Critical Care Medicine Research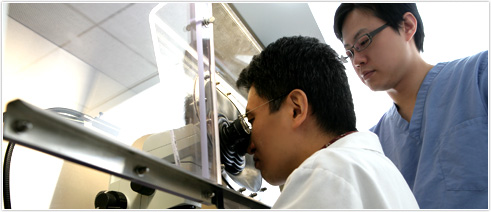 The Division's current research interests are focused on genetic medicine, i.e. the development of strategies for understanding and modifying gene expression for the treatment and/or prevention of human disease. Our faculty is interested in conceptualizing and developing new initiatives for understanding the genetic basis of human disease, understanding the function of the human genome, and modulating the genetic repertoire to treat human disorders, including gene therapy. Their work is rooted in the basic sciences, but with an orientation to the treatment and cure of disease by modifying genes and/or their expression, without being limited to any single therapeutic modality.

Our research laboratory, headed by Dr. Ronald G. Crystal, has been at the forefront of pioneering research in gene transfer strategies to treat the lung manifestations of various genetic and infectious lung diseases. Ongoing clinical studies focus on elucidating the genetic mechanisms responsible for the development and progression of asthma and other smoking- related lung diseases such as lung cancer and COPD (emphysema and chronic bronchitis). An important area of current investigation in our division is the accelerated development of emphysema in individuals infected with the human immunodeficiency virus (HIV).

The Pulmonary and Critical Care Division is one of eleven centers in the US (and the only one in the Northeast/New England/mid-Atlantic regions) participating in the NIH-funded Idiopathic Pulmonary Fibrosis Clinical Research Network (IPFnet), led by Dr. Robert J. Kaner, to evaluate new therapies in individuals with idiopathic pulmonary fibrosis; this is part of a multicenter clinical study started in June 2005. In the in-hospital setting, we have ongoing studies assessing new therapies for nosocomial pneumonia, and assessment of the relationship between vascular endothelial growth factor (VEGF) and pulmonary edema.
---
CONTACT US
Pulmonary & Critical Care Medicine
Joseph T. Cooke, MD, Chief

Carmel M. Cutugno,
Administrative Secretary
Phone: 212-746-7498
Fax: 646-962-0406
Email: [email protected]
Malika Maddison, Division Administrator
Phone: 646-962-2333
Fax: 646-962-0330
[email protected]
Yvette Soltren, Practice Manager
Phone: 646-962-2333
Fax: 646-962-0330
[email protected]
CLINICAL TRIALS
Click here to view Pulmonary and Critical Care Medicine Clinical Trials
Top of page