Pulmonary & Critical Care Medicine Education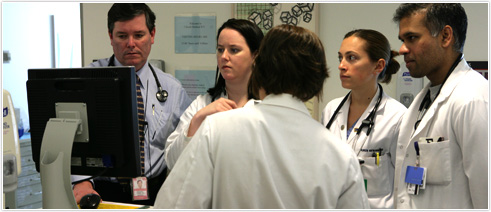 The Division of Pulmonary and Critical Care Medicine maintains one of the most active and multi-faceted educational programs at NewYork-Presyterian Hospital/Weill Cornell Medical Center. Our educational objective is to produce fully trained and competent physicians in this subspecialty. By virtue of providing fellows with exceptional training, we equip them to meet the future challenges of this dynamic field.
Our three-year Pulmonary and Critical Care Medicine Fellowship Training Program is accredited by the Accreditation Council for Graduate Medical Education (ACGME). It offers a structured curriculum encompassing rotations on our inpatient pulmonary consultation service, bronchoscopy/procedure service, pulmonary outpatient practice, and in the medical and surgical intensive care units of the medical center. Under the supervision of the division's clinical faculty, fellows receive training in the Weill Cornell Center for Sleep Medicine. As part of the three-year program, fellows elect to do one year of research, either laboratory or clinical research involving human subjects. In addition to the fellowship training program, the division's faculty runs the Pulmonary Pathophysiology Course and Genetic Medicine Course for medical students at Weill Cornell Medical College.
Ongoing educational activities include weekly case conferences, clinical research conferences, didactic lectures in pulmonary and critical care, as well as monthly joint case conferences for pulmonary/critical care attending physicians in the NewYork-Presbyterian Health Network, and the quarterly William A. Briscoe New York Lung Club, where pulmonary/critical care researchers from academic institutions and teaching hospitals in the New York metropolitan area meet to present and discuss new projects and data.
---
CONTACT US
Pulmonary & Critical Care Medicine
Joseph T. Cooke, MD, Chief

Carmel M. Cutugno,
Administrative Secretary
Phone: 212-746-7498
Fax: 646-962-0406
Email: [email protected]
Malika Maddison, Division Administrator
Phone: 646-962-2333
Fax: 646-962-0330
[email protected]
Yvette Soltren, Practice Manager
Phone: 646-962-2333
Fax: 646-962-0330
[email protected]
CLINICAL TRIALS
Click here to view Pulmonary and Critical Care Medicine Clinical Trials
Top of page