Clinical Trials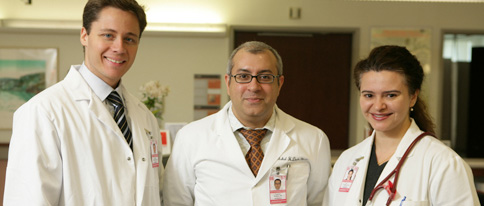 Welcome to the Clinical Trials site for the Department of Medicine at New York-Presbyterian Hospital/Weill Cornell Medical College.
Physicians in the Department of Medicine are nationally and internationally recognized experts in their fields. They are dedicated to the pursuit of breakthrough research and the safe and ethical management of patient studies.
Research study volunteers play a critical role in determining the effectiveness of new therapies and treatments. By participating in research studies you may gain access to new research treatments before they are widely available. Healthy volunteers are also needed for many studies.
If you are interested in joining a study, evaluating a study for a family member or friend, or want to learn more about our research, please browse our studies by specialty using the links in the left column. You can also enter a disease or condition in the search box to find a related study. For each study you will see information about its purpose, what conditions and treatments are being studied, who may participate, and additional study details. By clicking the link on the principal investigator's name, you will find background information on the physician leading the study.
Thank you for your interest in our research studies.
---
Healthy Volunteers

As a healthy volunteer in a clinical trial you may make a significant contribution to the discovery of medical knowledge and new treatments that could impact people around the world.
Click here for studies seeking healthy volunteers.
Contact Us
For general inquiries, or if you need assistance finding a study, please contact:
Erica Bersin
Tel: (646) 962-8232
[email protected]
Top of page