Cardiology Research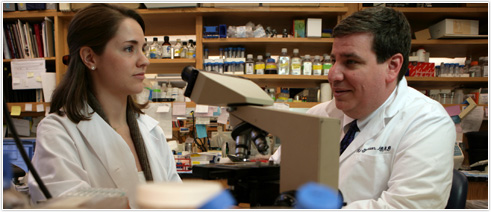 The Greenberg Cardiology Division has a distinguished team of cardiovascular scientists, and our Center for Molecular Cardiology is one of the flagship programs of Weill Cornell Medical College. Our discoveries are at the forefront of cardiovascular genetics, developmental biology, vascular biology, electrophysiology, and molecular signaling. These complement our long history of establishing new diagnostic and therapeutic modalities for our patients with coronary artery disease, arrhythmias, diabetes, and heart failure. To help our patients with heart disease in this "post-genomic era", we are translating molecular discoveries between bench and bedside. Our investigators focus on integrating our newfound scientific knowledge with advances in cardiovascular diagnostic and imaging modalities to create new ways to practice cardiology.
Research efforts address:
• How can we manipulate genetic regulatory pathways and stem cells to heal the heart after heart attacks or in hereditary and congenital forms of heart failure?
• What genetic, cellular, and biochemical events alter the ability of heart muscle to contract and to conduct electrical signals?
• How can we devise and deploy new interventional strategies to treat arrhythmias and obstructive disease in the coronary and peripheral vasculature?
• How will computational strategies provide accurate models to predict the complex interactions of proteins and cells as they evolve during heart disease?
• What interactions do abnormal lipids and cholesterol have with muscle and inflammatory cells in the heart and blood vessels?
• What genetic and clinical markers identify individuals as those who are at significant risk of heart failure and sudden death?
• How do we integrate genetic testing with advanced high resolution imaging of the heart to predict how cardiac patients will recuperate and to identify those who need more intensive therapy?

---
CONTACT US
Cardiology
Bruce B. Lerman, MD, Chief

Tel: (212) 746-2169
Fax: (212) 746-6951
CLINICAL TRIALS
Click here to view Cardiology Clinical Trials
Top of page