Cardiology Education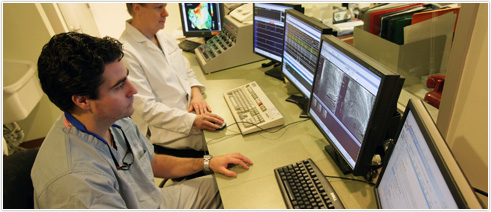 The Division is dedicated to training tomorrow's leaders in the field of Cardiology. Our expert faculty provides the mentoring, training and supervision that will prepare medical students, residents and fellows to be at the forefront of the discipline. We demonstrate our commitment to education by providing cutting-edge programs that investigate the basic mechanisms of cardiovascular disease, including the genetics of heart disease, the cellular signals and transcription factors responsible for cardiac development, the transformation and homing of stem cells for myocardial regeneration and the delineation of the molecular bases for cardiac arrhythmias. Our faculty teaches several courses offered to medical students including Pathophysiology, Physical Diagnosis and Introduction to Electrocardiography.
Cardiology residents rotate on the Coronary Care Unit, Cardiology Step-Down Unit and Cardiology Consult Service where they have the opportunity to participate in the treatment of patients with a wide variety of cardiac diseases. In addition, they spend considerable time working in our Electrophysiology and Cardiac Catheterization labs where they are mentored by highly trained specialists in the diagnostic/treatment options available in these areas.
The Division of Cardiology offers three clinical fellowship programs accredited by the Accreditation Council of Graduate Medical Education:
• Weill Cornell Cardiology Fellowship (19 fellows)
• Interventional Cardiology Fellowship (3 fellows)
• Clinical Cardiac Electrophysiology Fellowship (3 fellows)
There is an additional fellowship in partnership with Brooklyn Hospital Center:
• Brooklyn Hospital Center Fellowship (6 fellows).

For more information on our educational programs, faculty, and research opportunities please visit www.cornellcardiology.com

---
CONTACT US
Cardiology
Bruce B. Lerman, MD, Chief

Tel: (212) 746-2169
Fax: (212) 746-6951
CLINICAL TRIALS
Click here to view Cardiology Clinical Trials
Top of page