Dr. Fernando J. Martinez Appointed to Executive Vice Chair of Medicine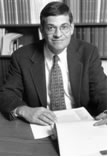 Dr. Fernando J. Martinez has been named the Executive Vice Chair of Medicine at Weill Cornell Medical College, and NewYork-Presbyterian Hospital/Weill Cornell Medical Center. He will work closely with the department and divisional leadership, as well as with all faculty members of the DOM to provide the highest quality patient care, best education and training of our medical students, residents and fellows, and to unravel discoveries in research endeavors.
Dr. Martinez received his Bachelor of Science and M.D. at the University of Florida, and completed his Internal Medicine residency at Beth Israel Hospital/Harvard Medical School in 1986. He then pursued a Pulmonary and Critical Care Medicine Fellowship at Boston University prior to joining University of Michigan Medical Center as an Assistant Professor of Medicine in 1991. He rose to the rank of Professor of Medicine at University of Michigan in 2002, and is currently Professor of Medicine and Associate Chief of Clinical Research at University of Michigan Medical Center. Dr. Martinez is a premiere translational researcher in chronic lung disease, and is nationally and internationally recognized for his seminal studies in the phenotypic and functional classification, and clinical interventions in COPD and interstitial lung disease. His research has been funded by the NHLBI/NIH for the past 2 decades and he has served as principal investigator on numerous NIH grants (K award, R01's, U01, P50). He has authored 241 peer-reviewed manuscripts, 32 review articles in addition to 32 book chapters, and has mentored numerous trainees, with many of his mentees establishing successful independent research programs.
Dr. Martinez has been active clinically, serving as Medical Director of Pulmonary Diagnostic Services and Pulmonary Director of the Cough/Dyspnea Clinic at the University of Michigan Medical Center and University of Michigan Health System. He has also served as Associate Director of the Bronchoscopy Service, Medical Director of Lung Transplantation and Medical Director of Pulmonary Rehabilitation at University of Michigan Medical Center. He was named a Finalist-Teacher of the Year at Harvard Medical School, received a Dupont Critical Care/Young Investigator Award, and has been listed in Best Doctors in America every year since 2002.
Top of page