Take the Historical Tour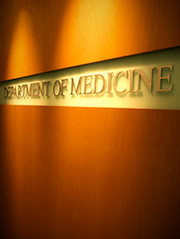 The Department of Medicine, founded in 1898, has consistently pushed the boundaries of breakthrough research in order to provide the most effective, state-of-the-art patient care available anywhere in the world. We invite you to learn more about the efforts of those physician-scientists who were, and continue to be, at the vanguard of groundbreaking advancements in all fields of medicine.
Categories in the navigational column to the left are listed by division and/or a specific field. The first two tours provided are for Clinical Pharmacology and Vascular Biology. More are in process and will be posted soon.
---
GENERAL CONTACT INFORMATION
Mailing Address
NewYork-Presbyterian Hospital/
Weill Cornell Medical College
Department of Medicine
525 East 68th Street, Box 130
New York, NY 10065
OFFICE LOCATIONS
Office of the Chairman
530 East 70th Street, M-522
New York, NY 10021
Tel: (212) 746-4720
Fax: (212) 746-8793
Email: [email protected]
Administration Office
1320 York Avenue, HT-621
New York, NY 10021
Tel: (212) 746-4007
Fax: (212) 746-8214
Residency Office
530 East 70th Street, M-528
New York, NY 10021
Tel: (212) 746-4749
Fax: (212) 746-6692
Top of page