DoM Hosts Second Annual QIPS Poster Session Held in Griffis Faculty Club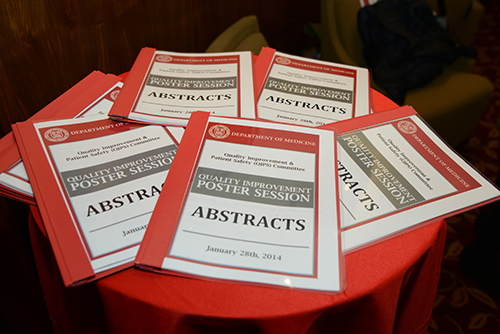 On January 28th, 2014, the Department of Medicine hosted the second annual QIPS Poster Session to share results of the many exciting projects conceived and led by DoM faculty and residents in the training program. Infrastructure for these projects is internally funded by the DoM, but the lion's share of the credit goes to the projects' principal investigators who devoted enormous effort to this work.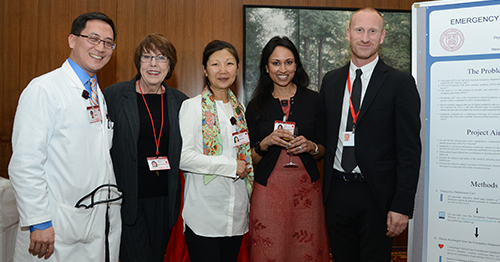 Meet the QIPS Committee!
The QIPS Committee is implemented by Jennifer I. Lee, M.D. (center), Quality and Patient Safety Officer, Co-chair; Robert J. Kim, M.D. (far left), Co-chair; Tara Bishop, M.D. (2nd from right), Director of QI Operations; and Mary Elizabeth Kelser, Administrator (2nd from left); Peter Steel, M.D. (QIPS-PI).
Dr. Augustine M.K. Choi, Chairman of the DoM, as well as senior faculty members from the DoM visited the event, making their rounds of the posters and lending encouragement to the up-and-coming physician-scientists. Several Weill Cornell medical students who attended, said they found it to be "a great learning experience." Click here to view photos from the QIPS Poster Session.

Many individuals provided their time and effort in making the QIPS posters session a great success. Please see below for their names and further details:
Division Representatives:

Robert Kim (Cardiology)
David Calfee (Infectious Disease)
Naina Sinha (Endocrinology)
Michael Kahaleh (Gastroenterology/Hepatology)
Sharda Ramsaroop (Geriatric Medicine)
Jia Ruan (Hematology/Medical Oncology)
Jennifer Lee (Hospital Medicine)
Kapil Rajwani (Pulmonary & Critical Care Medicine)
Fran Ganz-Lord (Weill Cornell Internal Medicine Associates)
Elizabeth Leef-Jacobson (Women's Health: Iris Cantor Women's Health Center)
Other Members:

Unit Medical Directors
Daniel Crossman, Greenberg 5-West
Renuka Gupta, Greenberg 5-Central
Paul Martin, Greenberg 5-North
Chin Tang, Medicine PA Services
Patient Care Director
Cathy Collins, Greenberg 5-West
Natalie Mohammed, Greenberg 5-North
Marianne Moore, Greenberg 5-Central
Residency Training Program
Lindsay Lief, Chief Resident
Augustine Chung, Quality Chief Resident
Heidi Charvet, Housestaff Quality Council
Ed Perchic , NYP Division of Quality
Riya George, Research Assistant
Poster PIs
Faculty
Elizabeth Alexander (Infectious Disease)
Mary Mulcare (Emergency Medicine)
Peter Steel (Emergency Medicine)
Sharda Ramsaroop (Geriatrics)
Karen Ouchida (Geriatrics)
Sara Iobst (Hospital Medicine)
Ernie Esquivel (Hospital Medicine)
Naina Sinha (Endocrine)
James Horowitz (Cardiology)
Maria DeSancho (Hematology/Oncology)
Resident Posters
Multidisciplinary Discharge Timeout
Utilization of Interpreter Services by Admitting Medicine Housestaff
Improving Heart Failure Health Literacy in the CCU
Increase Advanced Directive Discussion in Resident Outpatient Clinic
Improving Hepatitis C Screening Rates in Resident Clinic
Top of page