What Sets Us Apart
One of the country's premier residency training programs, the Weill Cornell Medical College Internal Medicine Residency Program is distinguished by a unique combination of activities and opportunities that set us apart. Please click on the headings below to learn more about Academic Time, Ambulatory Education, Global and Rural Health Offerings, Core Conferences, Quality Improvement and Patient Safety, as well as a special feature on Resident as Leader/Resident as Teacher.
Academic Time/Core Curriculum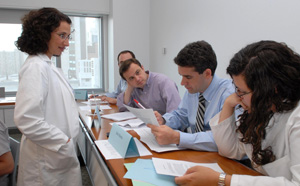 The innovative core curriculum for the residency program is done through weekly Academic Time. Each year of training has a dedicated 90-minute session every week to actively learn about key topics. All sessions run from 12 to 1:30 PM.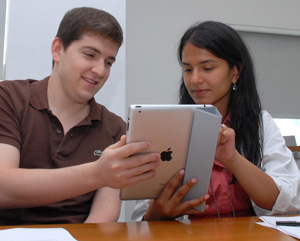 PGY1s meet on Mondays, PGY2s meet on Wednesdays, and PGY3s meet on Thursdays. Residents are expected to read 1-2 articles in preparation for the session and to hand off their pagers before they arrive. Once there, they work in teams on uniquely developed patient cases presented in a workbook. Each year's curriculum is led by two high energy medical educators and an invited faculty expert on the topic. The sessions start with some basic readiness questions using an audience response system and move into team based discussions and debates about best practice, relevant literature, and key diagnostic and management strategies. iPads are available for real time literature searching.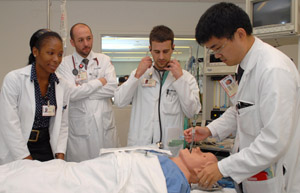 The curriculum provides almost 150 different topics over three years and is developmentally targeted to the year of training. For example, the intern curriculum includes fundamental topics like hyponatremia, acute chest pain, rapid atrial fibrillation, and delirium. The PGY2 residents wrestle more complicated topics like infective endocarditis, lupus nephritis, multiple myeloma, and autoimmune hepatitis. PGY3 residents topics expand to include fungal infections, leukemia, sarcoidosis, and transplant medicine.
Academic Time and the Education Units are enhanced by the weekly conference schedule of morning report, Radiology and Pathology Clinical Conference, Grand Rounds, Patient Safety Conference, Journal Club, Chairman's Conference, and Senior Seminar Series. Another component of the core curriculum is offered during the 2-week ambulatory block time. These Education Units are again practical workshops on a variety of key topics, including EBM, physical exam skills, and critical thinking.
Residents are active learners in all of these conferences with strong faculty participation. A different faculty member serves as the guest attending each week for morning report with many of the hospitalists also attending and joining in the discussion. Morning report includes our Clinical Medical Librarian, Helen-Ann Epstein, who provides relevant medical literature as the Library Gems after each conference.
Training in the Ambulatory Setting
In an effort to improve the continuity of learning and sense of immersion into the outpatient setting, ambulatory education has been designed into 2-week blocks alternating with 6-week non-ambulatory assignments. Residents can anticipate their outpatient practice time for the entire year and cover three colleague "pod partners" during their assigned block time. With a total of 12 weeks of ambulatory block time each academic year, residents become fully engaged in their outpatient practices with an emphasis on continuity and ownership for their panel of patients.
House Staff serve as the primary provider across all aspects of a patient's care. House Staff follow their patients throughout their residency experience, maximizing continuity and the longitudinal relationship. All three of the outpatient sites are fully integrated resident/faculty practices where patients of all payor types are seen (Medicare, Medicaid and private practice).
House Staff become proficient in managing the spectrum of outpatient decision-making, including triage, telephone communication, and the transitions between inpatient and outpatient care. The House Staff's role is that of the practicing clinician.
Residents can choose between three available clinical practices:
Weill Cornell Internal Medicine Associate (WCIMA), in the Helmsley Medical Tower (located across the street from NewYork-Presbyterian Hospital), is a large hospital-based academic general internal medicine practice.
WCIMA Wright Center is a smaller satellite practice of Helmsley Tower. Located on First Avenue and 77th Street, this practice is nearly identical to the Helmsley Tower practice with the exception of its size and its ability to draw patients more locally from the Upper East Side.
Long Island City Health Center (LICHC) is a federally qualified health center located in the northwest section of Queens. This multidisciplinary practice offers adult medicine, pediatrics, and obstetric/gynecology services to an ethnically diverse and medically underserved patient population. LICHC is committed to improving the health of its surrounding community and is located approximately 15 minutes from the main hospital campus. Residents are provided transportation.
Global and Rural Health Offerings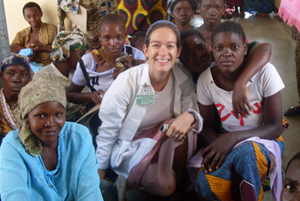 The Center for Global Health within the Weill Department of Medicine is part of the NIH Global Health Network and supports major international programs in Haiti, Brazil, and Tanzania. . These long-standing international partnerships have provided a wide-range of research and clinical activities for the internal medicine residents. Residents feel transformed by the experience of working in these resource-poor systems.
Third-year residents have the opportunity to participate in any of the three structured international health rotations under the supervision and direction of Weill Cornell faculty members. These include:
the teaching hospital at Bugando Medical Center and Weill-Bugando University College of Health Sciences (WBUCHS) in Mwanza, Tanzania
the HIV research and clinical care site, GHESKIO, in Port-au-Prince, Haiti
the medical research laboratories working on tropical diseases and public health efforts in Bahia, Brazil.
Rural Health
In addition to the global health opportunities, the Weill Department of Medicine has partnered with the medical community near Cornell University's main campus in Ithaca, New York, to provide residents with an opportunity to learn rural medicine and true community practice. The Cayuga Medical Center in upstate New York is a high-quality medical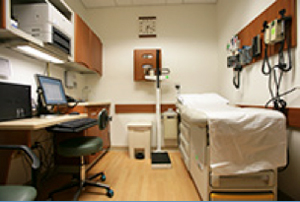 center with strong ties to the community, including the migrant farm workers in the surrounding area. Gannett Health Service, the student health practice on Cornell's main campus, has also developed electives in adolescent medicine, women's health, and behavior medicine. The clinician-educators based at Cayuga are wonderful teachers and role models, all with Weill Cornell clinical faculty appointments. Residents rave about their experiences there.
Core Conferences
The weekly core conference schedule includes morning report with residents three times per week and with interns on Tuesday mornings. In addition, the weekly Grand Rounds, Chairman's Conference, and Program Update provide a strong sense of the community of learning and community of practice. Other conference occur just once every rotation with the Radiology and Pathology Clinical Conference on the first Monday of every rotation, Journal Club on the second Friday and the Patient Safety Conference on the fourth Friday.
Click here to view the Residency Weekly Conference Schedule
Simulation Training
As part of the patient safety curriculum, residents participate in once monthly mock codes in the hospital to hone their code leadership skills and managing a team in a crisis. They are proactively taught these skills in a simulation-based retreat at the end of the PGY1 year so they are comfortable with ACLS protocols and the communication required to manage a coding patient.
Dedicated Quality Improvement and Patient Safety Education
Residents are provided with a dedicated curriculum on quality improvement and patient safety. In the PGY2 ambulatory block, residents work in teams to develop relevant projects for improving the patient care systems in the outpatient setting. Using the Plan-Do-Study-Act model, they are encouraged to do rapid cycle improvements toward sustainable change. During the PGY3 year, they revisit these concepts and apply them to inpatient projects and key priority improvements for the general medicine units.
Residents are also enlisted in the patient safety movement. From the daily Handoff Rounds where residents are observed and coached in the handoff process to the close monitoring of best practice documentation in the electronic medical record, residents learn to observe health care delivery through a lens of safety and improvement. The Patient Safety Elective provides an opportunity for the resident to become the patient safety expert for the month, collecting reports from colleagues about patient care incidents. The safety resident looks into the various contributors to these events and works to identify system-level fixes to the problems that led to the near miss or medical error.
Quality Improvement Chief Resident
The Quality Improvement Chief Resident works closely with housestaff on multiple projects related to Quality Improvement and Patient Safety. This includes helping to teach a dedicated QI Curriculum for junior and senior residents, leading the curriculum and evaluation program for patient handoffs and documentation, and facilitating the 4-week Patient Safety Elective for third year residents. The QI Chief Resident acts as a liaison between several Hospital and Department committees and the residency program. He/she helps to identify innumerable residents to invite in system-wide QI initiatives. The individual in this position also works closely with the Chief Medical Resident and spends some portion of the year as a teaching Attending on the general medical service.
Education and Learning at the Center
The Weill Cornell internal medicine program additionally emphasizes its academic mission in training the next generation of physician teachers and physician leaders. As part of the PGY1 retreat every spring, residents learn the fundamental skills of clinical teaching including creating a good learning environment, communicating goals, evaluating learners, and providing effective feedback. Third year residents are additionally invited to choose the Resident as Clinician Educator rotation, an inpatient general medicine rotation where one senior resident acts as the "junior attending" to a team of one intern and one subintern. The resident is coached by the team's attending on teaching skills and bedside learning. In addition, Cathy Jalali, PhD, serves as a resource to the department to ensure best practice teaching by the faculty with the focus of promoting critical thinking and active learning.
The program's graduates have a long tradition of becoming leaders in academic medicine. In today's era of an ever-changing healthcare environment, it is critically important that physicians understand society's expectation for them to be advocates and leaders of an improved system of care. The PGY2 retreat every spring teaches residents important lessons in leadership, active listening, facilitating, and managing change. These activities explicitly demonstrate the power of teamwork and collective thinking, skills that are essential for physicians in the 21st century.
The Housestaff Committee is another leadership opportunity for residents. This self-organized group of residents serve as an advisory group for the program leadership. They are instrumental in all key changes for the residency program. We additionally have resident representatives on hospital-wide committees including the Housestaff Quality Council, the Code Committee, and the 5 Central Performance Improvement Group.
---
General Contact Information
Mailing Address
NewYork-Presbyterian Hospital/
Weill Cornell Medical College
Weill Department of Medicine
525 East 68th Street, Box 130
New York, NY 10065
Office Location
Residency Office
530 East 70th Street, M-528
New York, NY 10021
Tel: (212) 746-4749
Fax: (212) 746-6692
Top of page