Department of Medicine Welcomes Brendan M. Reilly as Executive Vice Chair for Clinical Affairs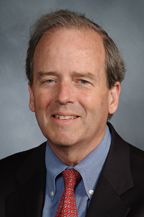 Brendan M. Reilly, MD
Brendan M. Reilly, MD, has been appointed Executive Vice Chair for Clinical Affairs in the Department of Medicine of Weill Cornell Medical College and the NewYork-Presbyterian Hospital/Weill Cornell Medical Center, effective July 1, 2008.
Dr. Reilly is currently Chair of the Department of Medicine and Physician-in-Chief of Cook County Hospital in Chicago, positions he has held with distinction since 1995. He also holds the C. Anderson Hedberg Endowed Chair in Medicine at Rush University Medical College. Dr. Reilly received his MD from Cornell in 1973, and did his house staff training and chief medical residency at Dartmouth, where he subsequently became Chief of the Division of General Internal Medicine and served on the Board of Governors of the Dartmouth Hitchcock Clinic until 1989. He then moved to the University of Rochester to become Professor of Medicine, Chair of the Department of Medicine at St. Mary's Hospital, and Founder and Director of Rochester HealthReach. Dr. Reilly is a noted geriatrician, a creative healthcare leader, and has been a widely honored medical educator at Dartmouth, Rochester, and Cook County.
In his new position Dr. Reilly will work with Dr. Schafer to provide operational and strategic leadership in all of our clinical activities. He will be responsible for the development and oversight of the highest standards of patient care, quality, safety, and access, as well as the planning of innovative and interdisciplinary clinical programs, and the coordination and integration of patient care services. Dr. Reilly will also work closely with our leadership team of Division Chiefs and Vice Chairs Meyer and Pecker to ensure that our clinical programs are well integrated with our academic and educational missions.
Top of page