Nephrology & Hypertension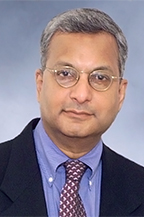 M. Suthanthiran, MD
Chief
Welcome to the Division of Nephrology & Hypertension. Our mission is to provide compassionate, comprehensive and state of the art care to every patient afflicted with kidney disease and or high blood pressure. We are committed to excellence in clinical care, education and research. Our program has consistently been ranked in the top 5 programs in the country by US News & World Report. In 2007, the NYPH Kidney Disease program had the best overall reputation score nationally. Our Hypertension Center is the only center in the greater metropolitan area devoted exclusively to patients with disorders of blood pressure and circulation. This center provides optimal and individualized patient care. We are active in diabetes research at the newly established Weill Cornell Center for Islet Transplantation for Type I Diabetes.
Our center has a long and distinguished history in renal transplantation. The first renal transplantation in the tri-state area (New York- New Jersey- Connecticut) was performed at our center in October 1963. As of December 2006, more than 3000 kidney transplants have been performed, including 240 renal transplants during 2005-06 (165 deceased donor transplants and 75 living donor transplants). Our success rates following renal transplants meet or exceed national success rates. The national organization that maintains survival statistics of organ transplants in USA reported that our one year patient survival rate was 97.67% (National Patient Survival Rate: 95.49%) and our one year transplant survival rate was 94.03% (National Renal Transplant Survival Rate: 91.62%).
The division provides evidence-based clinical care for patients afflicted with acute or chronic kidney disease; renal consultations and state of the art renal replacement therapies (acute dialysis, chronic dialysis, and continuous renal replacement therapy) are provided by renal attending physicians.
The Hypertension Center, within the Division of Nephrology and Hypertension, is one of the few dedicated hypertension practices in the tri-state area. Our mission is to provide comprehensive care to our patients, including evaluation for causes of hypertension and management of cardiovascular risk factors. Ambulatory blood pressure monitoring, hormonal profiling, pulse wave analysis, and complete cardiovascular evaluation are available. Existing data show that most people worldwide do not have their blood pressures well controlled. The patients managed at our internationally acclaimed Hypertension center do much better than national statistics with respect to blood pressure control, and are significantly better protected from the ravages of uncontrolled blood pressure.

---
CONTACT US
Nephrology and Hypertension
Manikkam Suthanthiran, MD, Chief

Anita Mesi, MBA, Administrator
Room: S-829
Tel: (212) 746-4430
Fax: (212) 746-6894
[email protected]
CLINICAL TRIALS
Click here to view Nephrology and Hypertension Clinical Trials
PATIENT CARE
Top of page