Endocrinology, Diabetes and Metabolism Education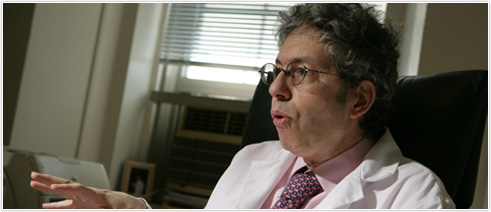 The Division is dedicated to fulfilling our mission of excellence in education. Thus, the subspecialty program in Endocrinology, Diabetes and Metabolism has been designed to provide the training and experience necessary to acquire all competencies to become an expert in this field. This comprehensive program fulfills the needs of trainees anticipating a clinical and/or basic endocrine research career in academia, those expecting to function as clinician-educators, and those interested in pursuing the clinical practice of endocrinology.
The Endocrinology, Diabetes and Metabolism fellowship is a joint program between NewYork-Presbyterian Hospital/ Weill Cornell Medical Center and Memorial Sloan-Kettering Cancer Center (MSKCC). This is a two-year training program accredited by the Accreditation Council for Graduate Medical Education (ACGME). Fellows receive didactic and clinical instruction from faculty using the inpatient and ambulatory facilities at the hospitals. In addition, fellows attend Metabolic Bone Clinic and conferences at the Hospital for Special Surgery (HSS).
The first year of the fellowship is primarily clinical, while the second year emphasizes clinical investigation or basic research. Fellows are expected to have at least one paper prepared for publication in a peer-reviewed journal at the completion of their fellowship.

An optional third year is devoted to further research training. Based on individual interest and past research experience, fellows may select mentors from a range of disciplines in the tri-institutional community and Rockefeller University, in both basic and clinical research. In addition, our faculty is active in the training of the Internal Medicine Residents and leads the Endocrinology Section of the Basis of Disease Course for medical students at Weill Cornell Medical College.

---
CONTACT US
Endocrinology, Diabetes & Metabolism
Julianne Imperato-McGinley, MD, Chief

Thomas Cunningham, Administrator
Room: F-20
Tel: (212) 746-1503
Fax: (212) 746-8527
[email protected]
Patient Appointments
(212) 746-6290
CLINICAL TRIALS
Click here to view Endocrinology, Diabetes and Metabolism Clinical Trials
Top of page