Geriatric Medicine Education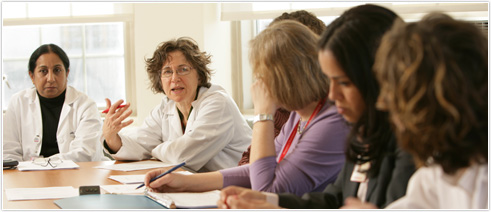 The need for Geriatric Medicine is expanding as the elderly population in this country is rapidly increasing. Geriatricians, however, are in critically short supply. In 2011, there was one geriatrician for every 2,600 people 75 and older. Unless there is a dramatic change in the number of doctors choosing geriatrics, it is projected that there will be only one geriatrician for every 3,800 older Americans by 2030 (American Geriatrics Society, 2011). Accordingly, the Division's primary objective is to teach geriatric care to physicians in training at all levels as well as those already in clinical practice. As a Hartford Center of Excellence in Geriatrics, we provide trainees with a wealth of resources as they embark on successful careers in this growing field. Students and fellows receive thorough training in research methodology and medical education.
The Geriatric Medicine Fellowship is a two-year program which integrates outstanding, nationally recognized academic and clinical resources. Two fellows are accepted each year into the comprehensive program. The fellowship is designed for physicians completing training in Internal Medicine or Family Practice. Training occurs in all settings appropriate for a practicing geriatrician, including ambulatory care, acute hospital care, long term care, home care, and palliative care. In addition, residents and interns have the opportunity to work with experts in elder care in an inpatient setting by participating in the Acute Care for Elders (ACE) program, which is our teaching unit for geriatrics. An elective course in Geriatrics is available for interested medical residents.
The Division is actively involved in medical student education at Weill Cornell. The following is a sampling of our educational activities:
• Cornell Medical Student Summer Scholar Program in Geriatrics (Hartford/MSTAR/Adelman Scholars) introduces first year medical students over the summer months to a mentor in the Division and pairs each student in his or her area of interest with work in a field project or lab. It includes weekly didactic experiences and focused clinical exposures in outpatient, inpatient, long term care, and home care.

• The Medical Student Geriatric Interest Group is a group of Cornell students contemplating careers in geriatric medicine who meet regularly with Division faculty serving as mentors.

• Medicine, Patients and Society course – The Division created and implemented modules in the first-year course: Medicine, Patients, and Society. In the first module, Introduction to the Geriatric Patient, we incorporate film, drama, and "live patients" to focus on ageism, effective communication skills, managing the third person in the interview, the importance of an enhanced social history, and functional assessment. In the second module, students are exposed to living with chronic illness from the perspective of the patient and family members. One activity involves students navigating through the hospital in a wheelchair and performing assigned "tasks" to heighten their awareness of the challenges that disabled patients face every day.

• Fast Forward Rounds (FFR), a Medicine Clerkship, teaches third year medical students key aspects about the discharge planning process for older adults with chronic illness. The course is designed to engage the medical students as active learners and allows medical residents to enhance their teaching skills while reinforcing their knowledge of chronic illness care.
Traditionally medical schools have focused their training on the diagnosis and treatment of the acutely ill older inpatient. As a result, graduating medical students are often ill-prepared to tackle the complex chronic problems of an aging outpatient population.

To address this curricular gap, the Division of Geriatrics developed an educational intervention that focuses less on diagnosis and treatment and more on chronic symptom management as well as on other relevant issues, such as the emotional and spiritual facets of chronic disease. All students rotating through the 6-week mandatory Primary Care Clerkship accompany the House Call Team during a half-day of house calls. Through this experience, they see first-hand the challenges that patients and doctors face while managing chronic illness.
During one of two seminars during the rotation, each student reflects on his/her observations and feelings about their experience with their peers via a creative project (new or found art), such as a narrative, poem, photo collage, musical composition, dance, slide show, etc. Interdisciplinary geriatrics faculty members facilitate these sessions and focus the discussion on such recurring medical and psychosocial themes as patient coping styles, patient's search for meaning, effect of chronic illness on family, importance of team, poly-pharmacy, end-of-life issues, among others.
For more information, please visit our website: www.cornellaging.org
---
CONTACT US
Geriatric and Palliative Medicine
Ronald D. Adelman, MD, Co-Chief
Mark S. Lachs, MD, Co-Chief

Sophia D. Gibbs, Interim Administrator
Room: F-1403
Tel: (212) 746-1733
Fax: (212) 746-4888
[email protected]
CLINICAL TRIALS
Click here to view Geriatric and Palliative Medicine Clinical Trials
Top of page