Geriatric and Palliative Medicine
The mission of the Division of Geriatric and Palliative Medicine is to improve the quality of life for older people through the integration of high quality clinical care, teaching geriatric and palliative medicine to clinical trainees, and advancing knowledge through scientific research.
CLINICAL PROGRAMS:
The Irving Sherwood Wright Center on Aging is a state of the art community-based outpatient center dedicated to maintaining the independence and dignity of older adults. Located on First Avenue at 77th Street, it is the most visible "hub" of clinical activities. Here the Division provides extensive primary care and consultational services to older people and their families. It also shares space with the Burden Center for the Aging (a social service agency that helps older people in the same community) and the Hebrew Home's ElderServe program (which provides home care for older people). It also serves as the training site for ambulatory geriatric medicine – fellows seeking to become geriatricians maintain a primary care practice here during training.
The House Call Program is designed to provide medical care to older adults, who for reasons of chronic disease, mobility impairment, or inclement weather cannot travel to the Wright Center. This is a highly regarded clinical and teaching program beloved by medical students and other trainees.
Hospital Based Services: The Division runs two inpatient services related to aging. The Geriatric Consultation Service provides inpatient consultations to other doctors in the hospital for their older adults who are hospitalized and have special needs. For patients admitted under their own care, the Division runs an inpatient program called the ACE Unit (Acute Care of the Elderly). On this floor, 10 North, there is a higher staffing level of nurses and more "home-like" amenities. Medical residents also have a required rotation through this floor which introduces them to geriatrics.
The Palliative Care Consultation Service was developed in the fall of 2005 to provide supportive care for adult inpatients in the areas of pain, symptom management and medical treatment at the end of life at the New York-Presbyterian Hospital-Weill Cornell Medical College campus. The Palliative Care Consult Service consists of an attending physician, nurse practitioner and social worker. Our palliative care team can be called to any service (e.g. GYN, Surgery, Oncology, the ICU) for adult patients who are suffering. Of note, the palliative care service cares for adults of all ages.
Amsterdam House is the Division's teaching nursing home and adult day care center. It is located on 112th street and Amsterdam Avenue. It is the site of many training and research activities within the division. The Hospital for Special Surgery provides outstanding rehabilitation services there.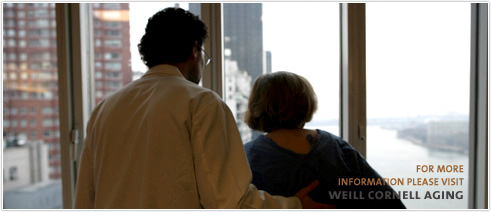 Research programs are the lifeblood of our academic geriatric program. They attract and retain the best students. They advance scientific knowledge in aging. In addition to investigator-driven research on specific topics, the Division of Geriatrics and Gerontology has several ongoing research projects with the unifying themes of clinical relevance and community engagement.
For more information on our numerous educational programs and research centers, please see the links on the upper left, or visit our website at www.cornellaging.com
---
CONTACT US
Geriatric and Palliative Medicine
Ronald D. Adelman, MD, Co-Chief
Mark S. Lachs, MD, Co-Chief

Sophia D. Gibbs, Interim Administrator
Room: F-1403
Tel: (212) 746-1733
Fax: (212) 746-4888
[email protected]
CLINICAL TRIALS
Click here to view Geriatric and Palliative Medicine Clinical Trials
Top of page